Michele
I got my first camera, a Kodak Instamatic, for my 11th birthday. A few years later, my stepfather gave me his old Brownie Bulls-Eye, and my interest in photography flourished.
My first horse was a bad-tempered, hard-mouthed, injury-prone Palomino ex-rodeo bronc called April. She keeled over from a heart attack a month after I sold her. The guy that bought her was pretty philosophical about it. We became good friends.
Eventually, I got involved in showing Arabian halter and performance horses. I discovered that my talents lay behind the scenes (excellent work rider, useless in the show ring) and behind the lens.
Things like going to college and earning a living interrupted my close association with horses for a while, but now I am thoroughly enjoying the opportunity to combine two of my great loves, photography and horses. If I could find a way to fit baseball into the mix, it would be perfect.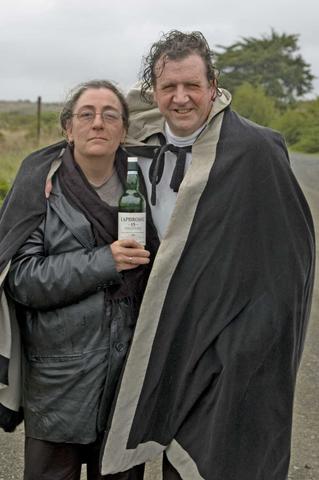 After the only wedding shoot we'll ever do.
Mark
It was a sad day for me when they said I was too big to go trekking on the Icelandic ponies any more. We used to ride for hours through the Pentland Hills just South of Edinburgh when I was growing up.
Soon after that I turned ten and got a camera for Christmas; I've never been without one since. Back in the bad old days, I used to say my final act would be photographing an incoming ICBM. That doesn't seem quite so likely now, but I'm always ready to take your picture.
When I'm not taking pictures, I like cooking, reading, and playing with computers, keyboards, guitars, or bits of wood.