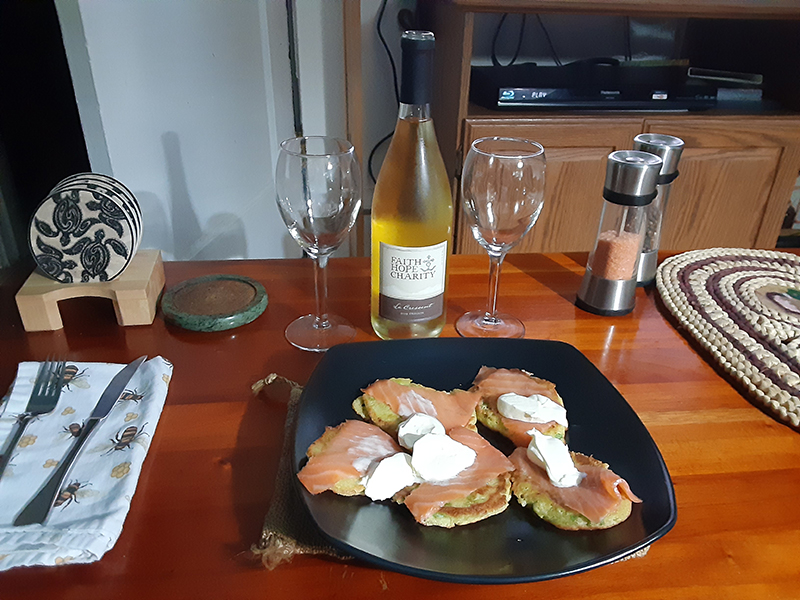 4 Tbsp. unsalted butter
1 small leek, trimmed and finely chopped
Kosher salt and freshly ground black pepper
2 small green onions, very finely chopped
8 oz. fresh or frozen peas
Finely grated zest of 1 lemon
1 Tbsp. finely chopped fresh parsley leaves
0.5 cup all-purpose flour, or 0.25 cup each of rice flour and tapioca starch for a gluten-free treat
1 tsp. baking powder
1 large egg plus 1 large egg yolk, beaten together
0.3 cup whole milk
Olive oil, for frying
For serving:
0.3 cup crème fraîche or sour cream
4 oz. smoked salmon
1 ripe avocado, pitted, skinned, and sliced
Finely chopped fresh chives
If the peas are frozen, put them in a bowl and pour boiling water over them to cover, let them sit for 5 minutes then drain well. If they're fresh, boil them for 2–6 minutes, depending on how fresh.
In a large frying pan over medium heat, melt 2 Tbsp. butter. Add the leek and sprinkle with a pinch of salt. Cook, stirring, until soft and tender, about 10 minutes.
Add the peas, green onions, and lemon zest to the leek and cook, smashing the peas with a potato masher until about half are smashed. Cook this until tender and fragrant, about 5 minutes. Stir in the parsley, remove from the heat, and set aside.
Melt the remaining 2 Tbsp. of the butter in a small pan. In a bowl, whisk together the flour, baking powder, and 0.5 tsp. salt. Whisk in the eggs, milk, and the melted butter together to make a batter. Add the pea mixture and stir to combine. Note thet, like all pancake batters, this does not have to be perfectly smooth and lump-free, and that your pancakes will have better texture if you make the batter a couple of hours in advance and refrigerate it while it waits.
In a non-stick frying pan, warm a little olive oil over medium heat. Spoon tablespoon-sized dollops of the batter into the pan, spacing them evenly. Fry the pancakes until they're golden brown and crisp, turning them once, 1.5–2 minutes per side. Transfer them to a baking sheet lined with paper towels and keep them warm in a low oven while you finish the remaining pancakes.
To serve, transfer the pancakes to a warm platter. Top each with a sliver of smoked salmon, a slice of avocado, and a dollop of crème fraîche. Sprinkle with the chives and serve right away.